Make Love To Your Money!
This revolutionary new e-book by blogger and business woman, Tara Gentile will rock every assumption you have ever made about your money and your business. (read my review)
This book teaches you to value the work you do as an art form.  You are the Michelangelo of your life. The Art of Earning is a powerful brush with which you can link the joy of your vocation to the business of making money.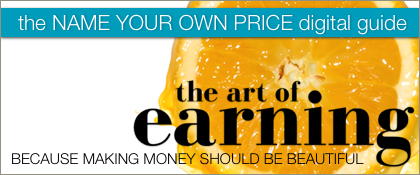 (Click the banner to learn more and purchase)
This tool is an essential "must-have" for creative business persons, and is timely and relevant for all professionals who want to navigate the transition from the "paycheck prison" to play in the "New Economy."
The choice is yours!
It Takes GUTS to Follow Your Dream!
From the founder of The Middle Finger Project comes the always irreverent, yet absolutely vital entrepreneur's bible: You Don't Need A Job, You Need GUTS!
If you have always wanted to work for yourself, Ash Ambirge gives you the tools by challenging you to re-frame your mindset toward business and by walking you through the process of building an internet presence and marketing platform from which to launch your success.
Ambirge's style is sarcastic, witty and cuttingly compassionate.  You'll love this 176 page manual packed FULL of her experience as a marketing exec turned entrepreneur.
This book absolutely was a life-changer for me. If you want a manual to guide you as you make the plunge (from someone who's been there), this is it!